MUMEx (Quantum Music)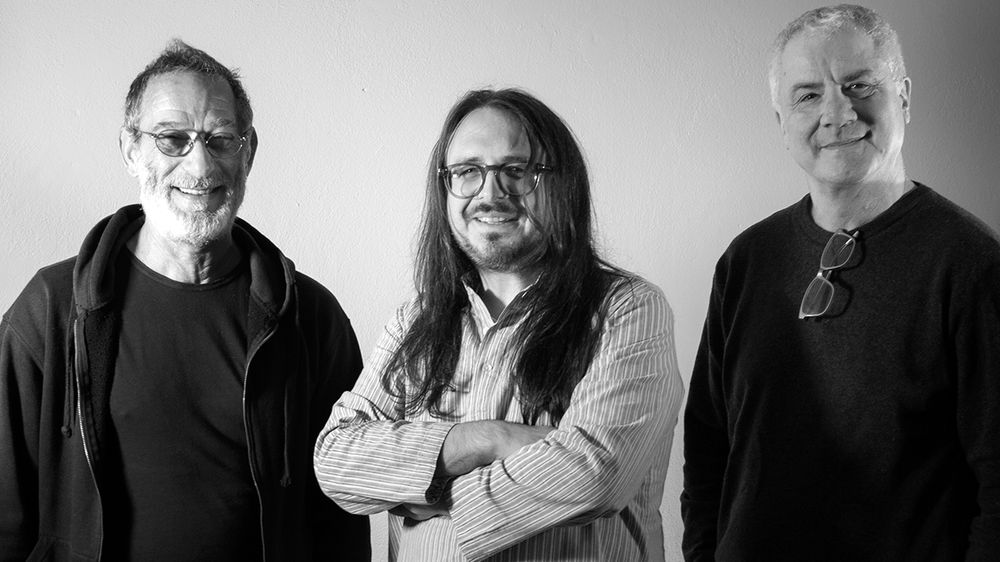 MUSIC MULTIVERSE EXPLORATION
Music meta-language by Louis Siciliano
Once, the great Wayne Shorter told me that Charlie Parker listened to a musician performing dodecaphonic music, took out his sax and began to play. Someone asked him: "What you're playing?". He answered: "I'm playing lakes, rivers, trees, clouds, the sea".
Quantum physics and the latest scientific research have established that there is a sacred architecture, a harmonic law that underlies everything that happens in the Cosmos.  In what we call the overtone series, there is the key to everything. Music contains the mystery of life and is connected to the sciences and the infinite dimensions in which all of us are immersed.  In the current state of research of the twelve-tone technique, without wishing to diminish it, has been a parenthesis of a very banal process respect to the complexity of the Harmonikalis Space and a desire to pay tribute to Pythagoras. We think of a painter who has an infinite number of colors that he can use, but his paintings are all gray.
Musicians, of course, have always been interested in the playing the game of musical composition: Mozart's dice, or even the magic squares and the various numerological devices linked to the permutation used by J.S. Bach, in turn inherited by the Flemish composers and composers of the Renaissance; or the I Ching, used by John Cage. 
But there is something more profound and more important. That which regulates the gravitational fields of vibrations. A force that acts in the  Harmonikalis Space and creates, like biological life, musical structures that can live and pulsate like living organisms.
This is given by the relationship of the tonal center with the modulating technique of chromatism, intuited by my fellow citizen Gesualdo  da  Venosa and  developed throughout  the centuries  from Banchieri to Leo, Jommelli, Porpora, Vinci, Durante, Paisiello, Pergolesi, Alessandro e Domenico Scarlatti (all the great composers of "Neapolitan School" of  eighteenth-century) and  then  Beethoven, Brahms,  Chopin, Lizst, Wagner, Bruckner to the composers of the twentieth century: Skrjabin, Debussy, Ravel, Satie, Stravinsky, Bartok, Janáček, Rachmaninov, Richard Strauss, Shostakovic, Varese, Messiaen, Ligeti, Xenakis, Part, Antonio De Santis then evolving to Louis Armstrong, Fletcher Henderson, Duke Ellington, Count Basie, Django Reinhardt, Charlie Parker, Thelonious Monk, Dizzy Gillespie, Lennie Tristano, Lee Konitz, Gil Evans, Miles Davis, Cannonball Adderley, Bill Evans, Charles Mingus, Eric Dolphy, John Coltrane, Ornette Coleman, Antony Braxton, Sam Rivers, the members of the Art Ensemble of Chicago, Woody Shaw, Wayne Shorter, Joe Zawinul, Herbie Hancock, Joe Henderson,  Michael Brecker, Frank Zappa and fully realized by today's musicians like Hermeto Pascoal, Lyle Mays, Steve Coleman,  Aldo  Brizzi,  Brad  Mehldau,  Roberto  Bellatalla, Mieczisław Litwiński,  Marco  Cappelli, Andrzej  Rejman,  Harold  Budd,  Filippo D'Eliso,  Stephen "Thundercat"  Bruner,  Kamasi  Washington,  Tom "Squarepusher" Jenkinson, Giovanni Imparato, Andrea Seki and many others fantastic composers and musicians.
In the Universe, or what we shall now call the Multiverse, there are forces acting at different levels which then merge into what the ancient people called LOGOS. These forces are a type of dynamics. It is no coincidence that today the scientists of the world hypothesize, debate and push the  cutting-edge fields of super-string theory or membrane-universe theory. But all of this has already been assimilated and realized by musician-scientists millennia of years ago, further providing evidence that we live in a big Cosmic Symphony!   
From Pythagoras to Al Farabi, from Boethius to Copernicus, Ockegem, Vicentino, Zarlino, Kircher, Kepler, J.S. Bach, Mersenne, Hershell, Haba, Hindemith, Shillinger,  Messiaen, Ligeti,  Penderecki, Donatoni, Tesla, Slonimsky, Levy, Persichetti, Reck Miranda, Roads, De La Motte and Cope.I recommend and hope to deepen everything that these illustrious composers and scientists have written.  
MUSIC IS NUMBER.  
Everything is number, said Pythagoras and as quantum mechanics today say: "Everything in the Multiverse is Vibration".
MUSIC IS VIBRATION! 
The essence of the Cosmos and everything around and inside us is Vibration (it was not a coincidence, that the title of my first album was ONE VIBRATION.) The "science of music" has been questioned forever. In fact, the Middle Ages was part of the quadrivium, even before the Western World. The quadrivium is a course of study with a scientific orientation that also included geometry, arithmetic and astronomy.  
In ancient and the highly refined civilizations of China and India, the art of sounds were closely linked to cosmology, astronomy and all the phenomena of transformation occurring in the Universe.  There is a double thread that links Music with scientific intuition on one side and spirituality on the other. It is not a coincidence that at the base of all religions there is the singing practice.
The Music that is considered is further affirmed by Lama Anagarika Govinda, Agustin of Hippo, Moses 
de Leon, Sri Ramakrishna, Rumi and Yogananda. Music is superior to words and is the great universal language that connect ourselves with the Divine that permeates everything.
As the great percussionist Giovanni Imparato says: "Music is the breath of the Cosmos". With this wonderful light that give us a beautiful joy from the deepness of our  heart,  the  mind  empties  itself  through  Meditation.  That's why Music practice is an Active Meditation.  
Since I was a child, I was very fascinated by the music of Charlie Parker, Modern Jazz Quartet, Thelonious Monk, Charles Mingus, Eric Dolphy, John Coltrane, Jimmy Hendrix, Miles Davis, Bill Evans, Joe Henderson, Anthony Braxton, Art Ensemble of Chicago, Sun-Ra, Cecil Taylor, Wayne Shorter, Joe Zawinul as well as the musical architectures of Scelsi, De Santis, Maderna,  Cesa, Clementi, Ligeti, Messiaen, Cage, Varese, Riley, La Monte Young, Reich, Berio, Nono, Sciarrino, Donatoni, Petrassi, Guaccero, Macchi, Stockhausen, Hans Werner Henze,  Xenakis, Murail, Grisey, Dufourt, Ferneyhough, Saariaho, Lindberg, Pärt, Lutoslawski, Penderecki , Nancarrow, Ferneyhough and Pape.
I repeated to myself, "there must be a universal law that regulates the life of musical structures," like the Einstein theory of relativity. "As above, so below," the hermetics said. The law that permeates music is the same that moves and regulates the Universes. I began to deepen the immense didactic work of Slominsky, Schillinger, Hindemith and Messiaen, not to mention the works of the eternal J.S. Bach. From all these studies, I have been able to identify a fundamental concept in music: Symmetry.
From the symmetry of intervalic structures, I then landed at  MUSIC MULTIVERSE EXPLORATION. Through this meta-language, every architect-composer-performer will be able to freely build his own neighborhood, so to say, or an entire city, why  not?  Stravinsky  said: "freedom  for  me  is to be  aware  of  the borders".
The peculiarity of MUMEx (MUSIC MULTIVERSE EXPLORATION) is that it will ensure that each neighborhood (structural element) is in harmony and in complete coherence with the other districts. 
Very much to the detriment of what happens in our modern cities today, where now only wild cement reigns and chaos is dictated by the building speculation to favor the interests of the political class, (of any deployment) doing everything for themselves and their interests (accumulate money and power), nothing to protect the livability and the quality of life of citizens and the health of our planet.
MUMEx therefore, is a management model that serves to "freely organize" the melodic flow, counterpoint  lines,  sound agglomerates, rhythmic  figures  and  the  tonal  microstructures created by the composers-performers. The starting point to write this book was given to me by the great George Garzone, to whom I owe my most sincere thanks.  After all, "we are dwarfs on the shoulders of the giants," someone said!
MUMEx gives life to what I call real-time  composition.It is a kind of "probabilistic music", where the executive paths change every time. In reality, there are millions of possible routes, but only one will be the right one: the choice made "here and now".This choice is perfect for the moment in which it is realized and never can be repeated, because the next time will be the turn of another perfect choice.
This Music is in connection with all the infinite dimensions: "INFINITE MUSIC".As an old Sanskrit hymn recites, "it is so so big, this music, that I see neither the beginning nor the end."This book is a demonstration that after so many centuries, music is still part of the Quadrivium (arithmetic, geometry, astronomy and music) and perhaps it will also overcome the scheme  of becoming a science of synthesis. I am convinced that by investigating music, the cosmic laws become clearer for us and our spirituality grows more profound; free from dogmas and free from the impositions of politics.
Through MUMEx, I had the privilege of discovering a law that explains how a vector of energy travels through Infinity, and then apparently returns to the starting point. This point seems the same, thanks to a new level of consciousness acquired, but also allows him to be aware of being in a new dimension of spiral space, in which everything is immersed and everything is made up. We live in a large spiraling fractal and  Music is its synthesis and proof.
Music, besides having therapeutic qualities, spiritual connections, abilities to articulate social events and to denote the culture of peoples, contains the principle of knowledge linked to the Vibration which is the fulcrum of science.
The observer influences the observed: the approach to MUMEX sounds is totally quantum.
It is QUANTUM MUSIC.
(from the book Music Multiverse Exploration: A New Cosmology of the Sound.)